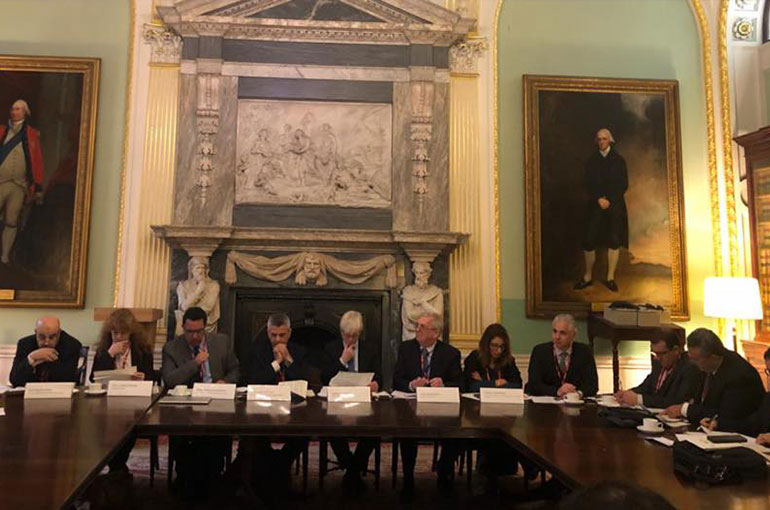 A Tunisian delegation led by HE Mr. Slim Khalbous, Minister of Higher Education and Scientific Research, participated in the "Education World Forum 2019″ (EWF), held in London from 20 to 23 January 2019.
The delegation included several actors in the Education sector mainly the Tunisian British Higher Education Commission, the aim of which is to promote Tunisia-UK collaboration and innovation in this field as well as support students studying in both countries.
The Forum is the most important international annual event to present the latest developments in the education, training and higher education sector and exchange experiences in this field with more than 90 countries, represented at the highest level.
The Tunisian delegation held several meetings with representatives of many institutions and organisations participating in the EWF, including: The University of Cambridge; Microsoft Education as well the Quality Assurance Agency for Higher Education, which brought about major partnership agreements.
The Ministry of Higher Education and Scientific Research stated that, further to the meeting of Minister Slim Khalbous and Mr. Lan Kimber the Director of Standards and quality programs in universities at the UK Quality Assurance Agency for Higher Education, it has been agreed that the UK agency will accompany the accreditation program of Tunisian universities at an
international scale.
The two parties also agreed to identify the needs of higher education institutions for the benefit of deans, directors and all academic leaders of all grades.
As part of this partnership program, Tunisian quality and accreditation experts will be trained to restructure the Tunisian Accreditation Agency and change its legal character in order to grant it independence and qualifications so as to be in accordance with the international standards.
A second partnership was also set up following a meeting of Minister Slim Khalbouss and Mr. Mark Eistand, Education Department Director at Microsoft in charge of Europe and the MENA region. The partnership aims to improve the Tunisian university computer system and develop programs in the field of digitisation of services and graduate training in technology.
Within the framework of this agreement, Microsoft will provide technical support and training for the El Khawarizmi computing centre executives and the ministry and university technicians in the field of computer system modernisation and digitisation of services.
Microsoft will also help the ministry in the creation of an observatory to monitor the professional integration of graduates from the network of centres of trades and skills training, through the establishment of a database and the development of programming.
22 thousand students and teachers will benefit in 2019 from a diploma training course in information technology provided by Microsoft, according to a Higher Education and Scientific Research Ministry.