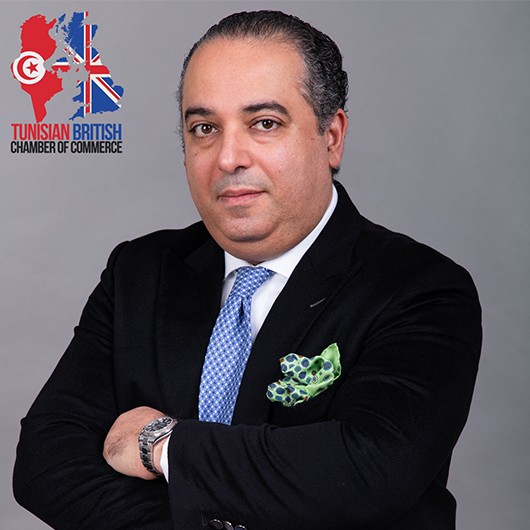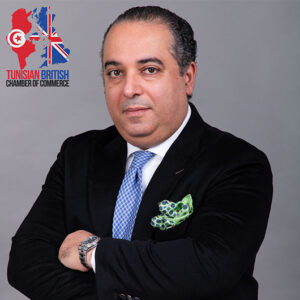 Dear TBCC Members,
Welcome to the Tunisian-British Chamber of Commerce official website !
I am Jed Mrabet, the current President.
First of all, I am so proud to lead such a great organization within such a wonderful framework. I thank the members of the Board of Directors for their trust.
This mandate that will be a great challenge for me on for my colleagues in the Board, in the context of this major economic and health crisis caused by the COVID19 pandemic.
Economic relations between Tunisia and the United Kingdom, as well as trade and bilateral services between the two countries, have been firmly established for a long time. However, the investment potential in Tunisia for the British, remains enormous. Hence our role, at the TBCC, as a facilitator and guide for investors already established in Tunisia and also those wishing to become investors too.
It is obvious that the present economic situation in Tunisia is not ideal. The political upheavals that have occurred since the revolution and that have been accentuated in recent years, coupled with the economic and social repercussions linked to the Covid-19 pandemic, have slowed the development of economic activities, and have not encouraged investment. However, Tunisia, thanks to its strategic geographical location, its natural assets as well as the quality of its skills, represents enormous potential, whether in Europe or elsewhere. Tunisia is also able to be an economic hub to Africa, since it offers the perfect base for investors looking to expand across Africa. Hence, TBCC is your best partner for this opportunity.
UK businesses can find in our country, which is less than a three hour flight from the UK, an optimal place to provide a conducive entrepreneurial environment as well as a skilled and inexpensive workforce. But they are often confronted with logistical difficulties and administrative slowness. And this is where our team at the Chamber can act, by listening to their requests and questions, and also by guiding them. In fact, if large brands like Clarke Energy, Vivo Energy, Morris Garages, Aon, etc., have already chosen Tunisia to set up, then other giants of the industry and British companies can follow their example.
Thus, the TBCC is here to accompany them, provide them with contacts and information and support them in their efforts.
The Chamber's role is to attract investment and create jobs, as well as to boost economic growth; it acts as an ambassador of the Tunisian economy to foreign companies, bilateral chambers, it develops an incentive framework for Tunisian investors abroad and trade exchanges. Strengthening cooperation between Tunisian and British business leaders.
We also plan to organize many events: "Happy Hours", conferences, webinars, round tables and others in order to offer our members opportunities to meet other players in the business world, to strengthen links with them and to take on new challenges. We have also set ourselves the goal of moving to the regions and meeting entrepreneurs and start uppers in different towns and cities across the country.
Entrepreneurs and start uppers, our board is dedicated to you and is deeply motivated to assist you with your projects. In our board, we venerate the value of work and we also deeply believe in the value of solidarity, mutual aid and cohesion.
"Individually, we are one drop. Together, we are an ocean."
Jed Mrabet
Request our Member's Benefits Packages & Application Form
Join the Tunisian British Business Network!