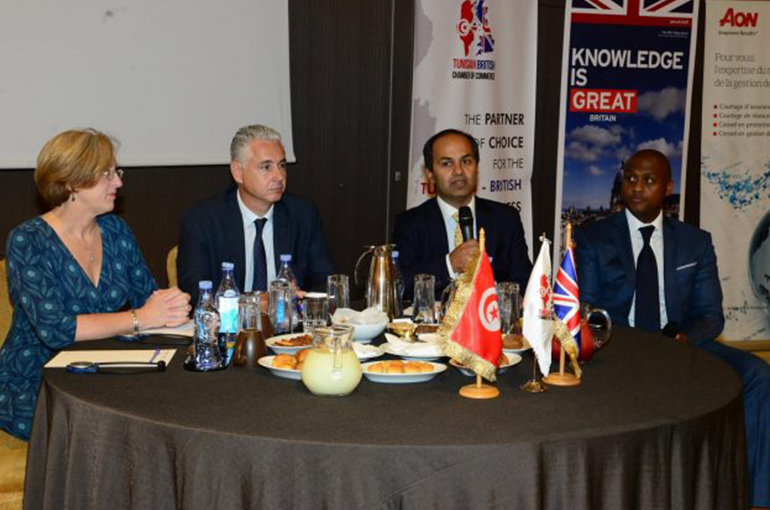 The Tunisian British Chamber of Commerce hosted the UK Export Finance Forum today in Tunis, with the presence of HMA Louise De Sousa, Mr. Vomic Shah, UKEF Director for the MENA region, Mr. Richard Prendergast, Skywater International CEO as well as TBCC members and partners representatives of the private sector.
UK Export Finance (UKEF), the United Kingdom's export credit agency, devised a long-term funding programme worth two billion pounds (7.35 billion dinars) to support Tunisian enterprises and help them carry out their projects, said President of the Tunisian-British Chamber of Commerce (TBCC) Mehdi Ben Abdallah.
The strength of this programme is its flexibility, the official Tuesday told TAP on the sidelines of the UK Export Finance Forum hosted by the TBCC.
The programme involves all areas of activity with the possibility for microenterprises to come together (2 or 3 businesses) to work on one project that could be eligible for UKEF financing, Mehdi Ben Abdallah said.
"If an enterprise targets the African continent, it can work on two or three markets at the same time in order to meet criteria for the funding, " he further said.
Poor knowledge about incentives under this programme accounts for the scant use by Tunisian businesses of funding facilities set up by the UK.
"The TBCC seeks to bring closer the two business communities by means of spotlighting tools made available to help them move ahead," the official highlighted.
Regional Head for Business Development at UK Export Finance Vomic Nur Shah said the agency, set up in 1919, offers flexible and innovative financing options.
"We provide repayment terms of ten years that could reach 18 years under some circumstances with highly competitive interest rates," said the British official. The UKEF can also finance contracts of no less than 20% of the value of goods purchased in the UK.
"We also support projects carried out as part of public-private partnership and our export credit guarantees are usually 100% unconditional bank guarantees directly provided by the British government," he further said.