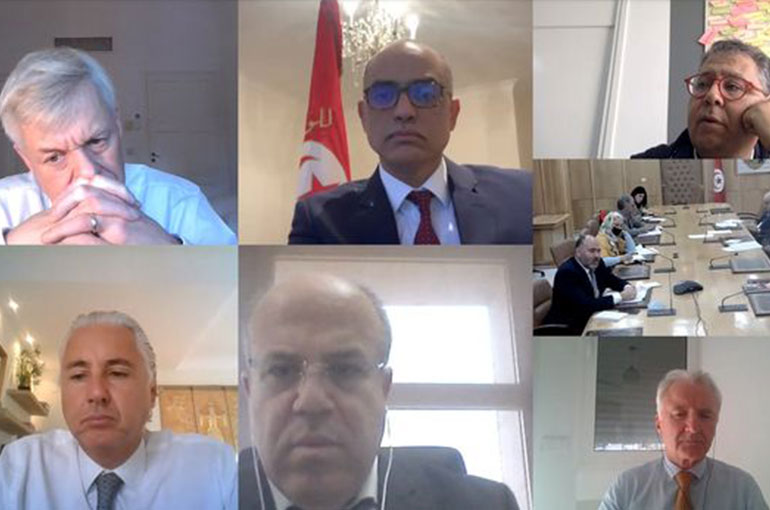 The Tunisian-UK Higher Education and Scientific Research HE/SR Commission held its fifth meeting online on 11 December 2020 and was opened by Prof. Olfa Ben Ouda Sioud, Tunisian Minister of HE/SR, with the participation of the Tunisian Ambassador in London Nabil Ben Khedher and the British Ambassador in Tunis Edward Oakden as well as officials and representatives from universities, HE institutions and the private sector from both countries.
The meeting was an opportunity for the participants to take stock of the progress made so far by the Commission since its last session in January 2020, such as on sharing UK experience in higher education quality assurance and exchanges of Arabist students between Oxford University and Bourguiba School (IBLV).
The meeting which was supposed to take place face-to-face in July 2020 in Tunis, allowed to keep up the momentum despite the pandemic in the implementation of the Commission's action plan which focuses mainly on: promoting governance of Tunisian universities, boosting scientific research collaboration in priority areas, enhancing the employability of youth through improved soft skills and better use of English as medium of instruction, supporting the capacities of Tunisian career centres, and increasing the mobility of students and staff.
The Tunisia-UK HEC was formed in 2018 to structure and ultimately strengthen the countries bilateral cooperation in higher education and scientific research. The 5th meeting was supposed to take place face-to-face in July 2020 in Tunis but had to be postponed.