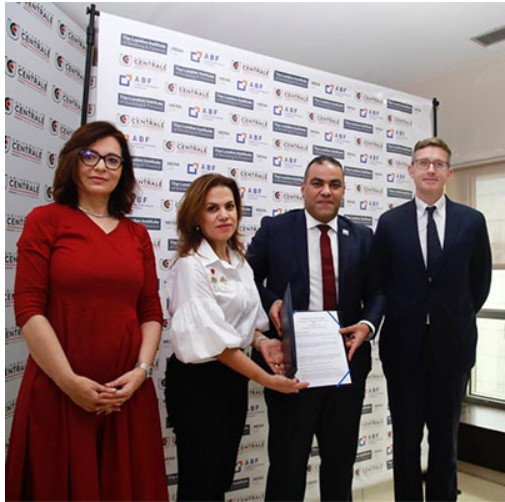 Financial education experts and Government representatives from Tunisia, MENA and the UK attended a ceremony today to launch an exciting partnership that will write the next chapter in the development of Tunisia's knowledge economy.
Leaders from The London Institute of Banking & Finance MENA (LIBF MENA), Université Centrale (UC), and Académie des Banques & Finances (ABF), came together to witness the signing of a landmark Memorandum of Understanding in a ceremony attended by Matthew Forman, Deputy Head of Mission from the British Embassy in Tunisia. The agreement recognises the value of providing UK-accredited international financial education in Tunisia and paves the way for the partners to offer new academic and professional training opportunities in the North African country.
LIBF, with 140 years of heritage in banking and finance, serves MENA from a regional office in Abu Dhabi and is a leading provider of internationally recognised executive development, technical training, and financial services qualifications. The Institute's expertise in creating bespoke programmes globally – as well as being the only professional body in the world to have Taught Degree Awarding Powers – gives a truly international aspect to its education programmes, as well as ensuring educational quality.
Founded in 2001 and with more than 15 years of experience, Université Centrale is the largest multidisciplinary private university in Tunisia. UC offers seven clusters of higher education curricula: health, business, law, engineering, architecture and design, journalism and communication, information and telecommunications technologies and an executive training centre. Today it has nearly 5,000 students from more than 20 different countries. Pioneer and resolutely oriented towards globalisation, Université Centrale is the first institution to join the network Honoris United Universities.
For more than 50 years of existence, the Académie des Banques & Finances was known as the Professional Banking Training Center, created in 1961 by the Central Bank of Tunisia and moved on the Professional Association for banks in 1972. As the Center was outsourced to be the ABF in 2010, it continues to provide to banking and finance professionals in Tunisia with high quality training, delivered through a combination of academic and practical learning.
Kareem Refaay, Managing Director of The London Institute of Banking & Finance MENA, said:
"The collaboration between The London Institute of Banking & Finance MENA, Université Centrale and Académie des Banques & Finances will help us to offer programmes addressing the needs and requirements of today's financial and banking industry in Tunisia – for example on digital transformation, retail and commercial banking and sustainable finance – ultimately contributing to Tunisia's economic development.
"The memorandum marks a significant development for education in the financial industry. We look forward to developing and delivering professional education and postgraduate programmes which will benefit the Tunisian finance sector and wider society."
Matthew Forman, Deputy Head of Mission, the British Ambassador to Tunisia, said:
"One of Tunisia's greatest assets is its people. With 140 years banking experience, LIBF educational programmes will bring a positive boost to Tunisia's banking and finance experts, equipping students and professionals with modern and practical skills in an ever changing market, which in turn will help to grow and diversify Tunisia's economy."
Houbeb Ajmi, CEO of Université Centrale, said:
"We are delighted to embark on this partnership with LIBF and ABF," said Houbeb Ajmi Université Centrale CEO's. "By joining forces, we are creating a unique platform for our students to engage with industry professionals, gain hands-on experience, and stay ahead of the curve in the finance sector. Together, we will redefine the boundaries of FinTech education and contribute to the future success of our students."
Mouna Said, General Manager of Académie des Banques & Finances, said:
"The banking and finance council through its banking and finance academy multiplies partnerships with prestigious institutions such as LIBF and UC with whom we share the same values of excellence and the same objectives of accelerating the development and modernisation of our banking industry in a rapidly changing world requiring by necessity agility in all areas including training. We are very committed to the success and continuity of this partnership."