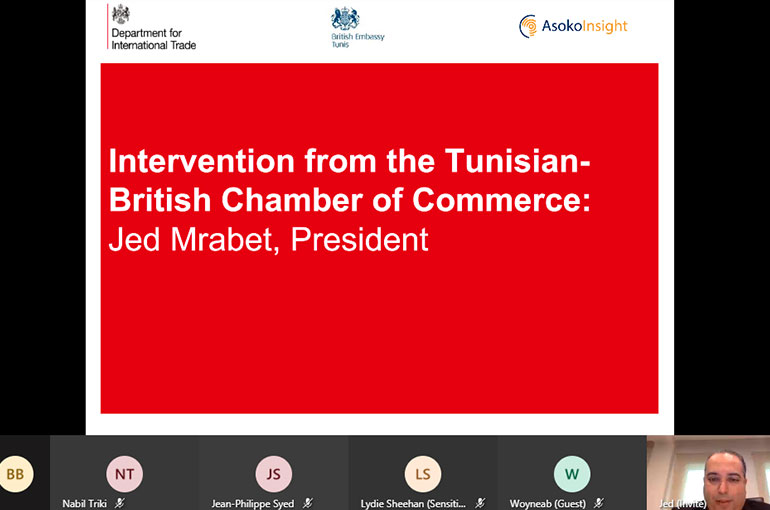 The Tunisian British Chamber of Commerce, represented by its President Jed Mrabet, was delighted to take part in the Asoko-DIT DealRoom Webinar, organised by the British Embassy Tunis on Monday 7th December.
This practical webinar, was honoured by the presence of Mr. Damien Moore, Prime Minister's Trade Envoy to Tunisia & Libya, MP of the United Kingdom, as well as the participation of:
– Abdelbasset Ghanmi: General Manager, FIPA
– Beligh Ben Solatne, CEO, TIA
– Woyneab Habte, Research Operations Team Lead, Asoko Insights
– Charles Groom: Director: Private Equity Funds, CDC Group
– Nabil Triki: Managing Partner & CEO, SPE Capital Partners
– Sherif Elkholy : Private Equity Partner, Actis
– Jean-Philippe Syed : Principal, Development Partners International. This was an opportunity to introduce the digital platform launched following the UK-Africa Investment Summit in January 2020, but also the Tunisian business environment through the success stories shared by the panelists. The Asoko DIT DealRoom matches high-growth African businesses seeking investment with major UK investors. This platform is available for high potential Tunisian businesses seeking quality UK investment.
Criteria:
– Tunisian businesses must be valued at minimum $500,000 and be seeking a minimum of $500,000 worth of investment
– Businesses must be already established and already generating revenue
– Businesses can be from any sector