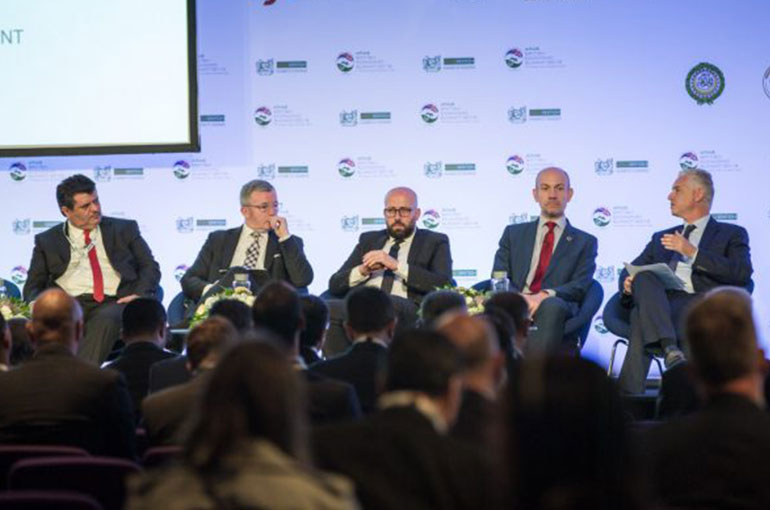 The Tunisian-British Chamber of Commerce participated alongside the Tunisian Embassy and FIPA London in the first Arab-British Economic Summit (ABES 2019), organised by the Arab British Chamber of Commerce on 3rd July 2019 at the QEII Centre, London.
This event was attended by a number of high officials as His Excellency Mr Ahmed Aboul Gheit, Secretary General of the Arab League, His Excellency Dr Abdul Latif bin Rashid Alzayani, Secretary General of the Gulf Cooperation Council, His Excellency Dr Khaled Hanafy, Secretary General of the Union of Arab Chambers, Mr Simon Penney, HM Trade Commissioner for the Middle East, Department for International Trade, Alderman Peter Estlin, Lord Mayor of the City of London, Mr George Hollingbery MP, Minister of State for Trade Policy at the Department for International Trade, and His Excellency Mr Mohamed Abdo Saeed, President of the Union of Arab Chambers.
On this occasion, Mr Mehdi Ben Abdallah, President of the Tunisian British Chamber of Commerce, chaired the first panel on infrastructure, investment and sustainable development.
Mr. Ben Abdallah highlighted the importance of the United Nations 2030's Agenda for Sustainable Development emphasising four of the key goals related to his panel: Access to water, the development of renewable energies, the need to build resilient infrastructures and promote sustainable industrialisation while encouraging innovation, and the need to design sustainable cities and communities. He also reminded the contribution of Tunisia to this agenda, and especially to the goals related to Infrastructure, Investment and Sustainable Development, including the progress made in Renewable Energies.
The Tunisian Embassy, FIPA London and TBCC participated also with a stand that attracted a number of investors and business representatives from the UK who were interested in finding out more about investment and business opportunities in Tunisia.