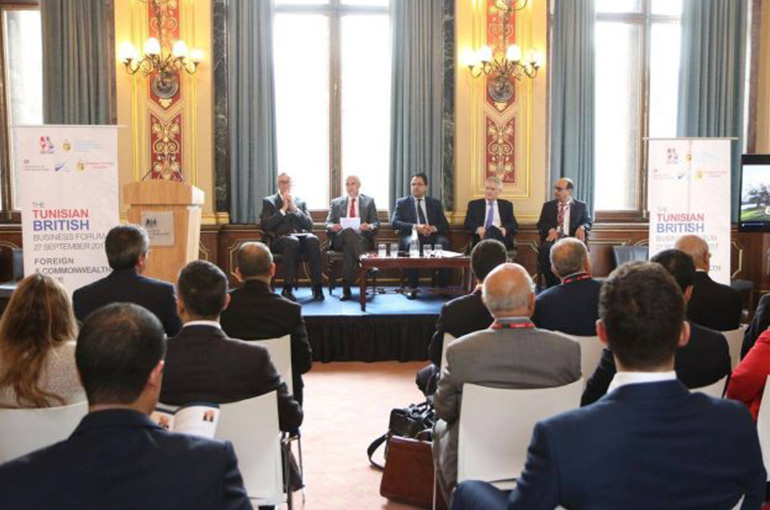 The Tunisian-British Chamber of Commerce (TBCC) organized a business mission to London on September 26 and 27, 2017 in collaboration with FIPA, the Tunisian Embassy in London, the Foreign & Commonwealth Office and and Trade Ministry, and the Lord Mayor of the City of London Office.
The TBCC delegation, chaired by Mr. Mehdi Ben Abdallah, was made up of several important companies and organizations, including: Mehdi Ben Abdallah, Hassine Doghri (Carte Assurances), Noureddine Hajji (E & Y), Ali Hjaiej (Clarke Energy), Khaled Ben Jemaa (SAM), Bilel Sahnoun (Tunis Stock Exchange), Mehdi Tamarzizte (Meninx), Karim Gaabiche (Cerealis), Habib Ben Gharbia (Capmaris), Karim Hamdy (Hamdy Frères Group), Tarek Ayari (Sun Travel), Houssem Ben Azouz (Interprofessional Federation of Tourism), Jed Mrabet (Lawyer).
The mission, enhanced by the presence of Minister Mr. Zied Ladhari and the Director General of FIPA, Mr. Khalil Laabidi, was a success, and confirmed the interest of Great Britain for Tunisia.
Indeed, the British-Tunisian business forum, organized on the morning of September 27 in the premises of the Foreign & Commonwealth Office, saw the presence of a hundred companies and organizations representing various sectors interested in the development of trade, commerce and investment between the two countries. It was clear to the audience that the two countries were in an opportune phase for the development of bilateral relations, highlighting the importance to improve people movement and the opportunities that will emerge from the application of Brexit.
Several speakers in the forum expressed the importance of working in close collaboration to bring the Tunisian-British economic partnership to the level of great potential that exists between Tunisia and the United Kingdom.
Intervened, among others, during the first session of this forum, Mr. Andrew Jones, Minister of Treasury, Mr. Zied Laadhari, Minister of Investment and International Cooperation, Dr. Andrew Murisson, Special Envoy of the Prime Minister for Trade with Tunisia, and Mr Mehdi Ben Abdallah, President of the Tunisian-British Chamber of Commerce.
The second part of the forum highlighted "success stories" and sectors of interest such as education, energy, agro-food, health and automotive components through several testimonies; of Abdeslam El-Idrissi (Arab-British Chamber), Hichem Omezine (Actis), Noureddine Hajji (E & Y) and Ali Hajaiej (Clarke Energy), giving the opportunity to the audience to debate with the various panelists.
The afternoon of the 27th saw the organization of a round table at the Mansion House at the invitation of Lord Mayor of the City of London, Dr. Andrew Parmley. Several important topics were discussed such as the investment environment or PPP projects, as well as the capital market that was presented by Mr. Nabil Sahnoun (Tunis Stock Exchange).
A work program was discussed including the visit of British business delegations to Tunisia, the creation of bilateral sectoral commissions for trade and investment, major PPP Projects investigation, but also  sharing of experiences in the financial and banking sectors.