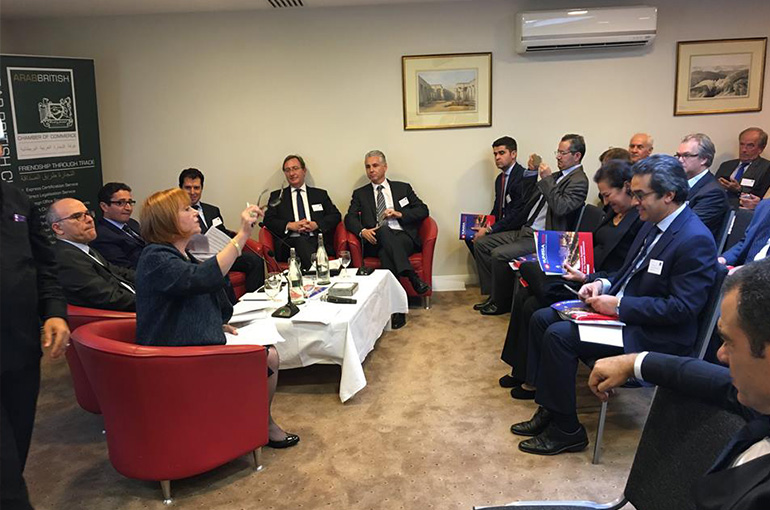 A successful conference in London promoting Tunisia and the "Tunisia 2020" event. More than 100 British companies present.
The Tunisian-British Chamber of Commerce (TBCC) participated on Wednesday 12th October 2016 at the road show in London with Mr. Fadhel Adelkefi, Minister of Development, Investment and International Cooperation, and co-organized a conference with the Arab British Chamber of Commerce presided by Baroness Symons of Vernham, to promote the investment conference in Tunis "Tunisia 2020″.
Several meetings with British companies, international organizations, representatives of the financial center and media, were followed by the important event co-organized with the Arab-British Chamber of Commerce under the theme "Opportunities in Tunisia". This meeting, which was also attended by HE Hamish Cowell and HE Nabil Ammar, respectively Ambassador of the United Kingdom to Tunisia and Ambassador of Tunisia to London, brought together more than a hundred British companies interested in Business with Tunisia and who came to listen and discuss with the stakeholders alongside the Minister to better understand the investment environment and the available opportunities.
Mehdi Ben Abdallah, President of the TBCC, recalling the importance of facilitating movement of people by easing travel restrictions and facilitating visa procedures and the need for Tunisia to see its foreign partners by its sides, wanted to send out a positive message to an audience who needs to be reassured about the political and economic climate of Tunisia.
To the companies present in the room, he said: "In Tunisia you will find a new vision for the development and creative growth of an environment that promotes trade and investment to contribute to our common success; And the Tunisian-British Chamber of Commerce will be by your sides to support you.
" The Tunisian-British Chamber of Commerce was represented by a large delegation including Mehdi Ben Abadallah, Noureddine Hajji, Ali Hjaiej, Fetah Krichene, Farah Mami Doghri, Oussema Nasraoui and Mourad Abdennadher.