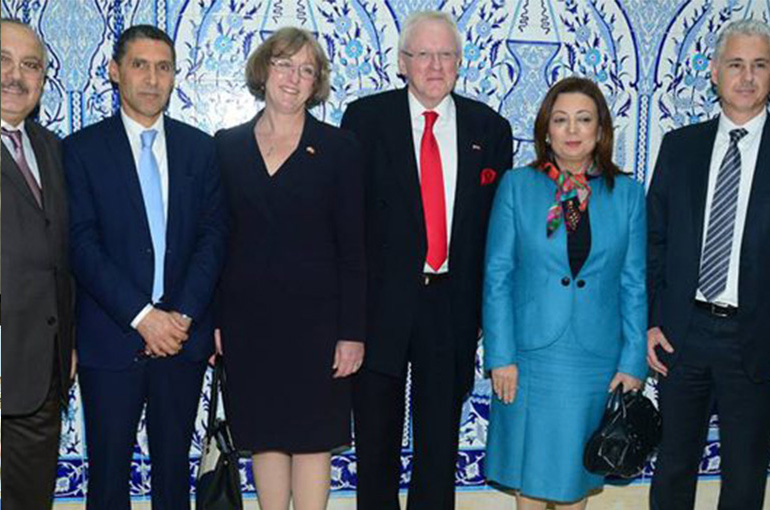 On the occasion of the visit of Dr Andrew Parmley, Lord Mayor of the City of London, in Tunisia, a lunch debate was jointly organized by the Tunisian British Chamber of Commerce the British Embassy in Tunisia on Tuesday, April 11, 2017 in Tunis.
Honoured by the presence of Ambassador of the United Kingdom, Louise De Susa, Mrs Ouided Bouchammaoui, President of UTICA, Mr Aymen Errais, 1st Adviser to the Minister of Investment and International Cooperation, and Mr Khalil Laabidi, FIPA Director General and the new President of the National Investment Board, this event was a real opportunity for the members of the British delegation, made up of senior representatives of the financial sector, as well as for the Tunisian economic operators to explore opportunities for exchanges and partnerships.
On this occasion, Mr. Mehdi Abdallah, President of the Tunisian British Chamber of Commerce (TBCC), expressed the commitment of the Chamber to support and strengthen the ties between Tunisia and the Kingdom in particular following the Brexit, emphasizing the need to facilitate and simplify movement of people and goods between the two countries for better economic exchanges.
Dr Andrew Parmley said the UK is interested in the Tunisian market and is ready to support the financial projects but also in the renewable energy sector. The Lord Mayor also indicated the importance of getting to know each other better and seized the opportunity to invite the Tunisian stakeholders to London with the Tunisian British Chamber of Commerce to explore the possibilities of collaborations.
This event also provided an opportunity to present the broad lines of the new investment code, with the objective of improving competitiveness, increasing added value, facilitating administrative procedures and mainly foreign investment in Tunisia, as stated by Mr. Aymen Erraies.