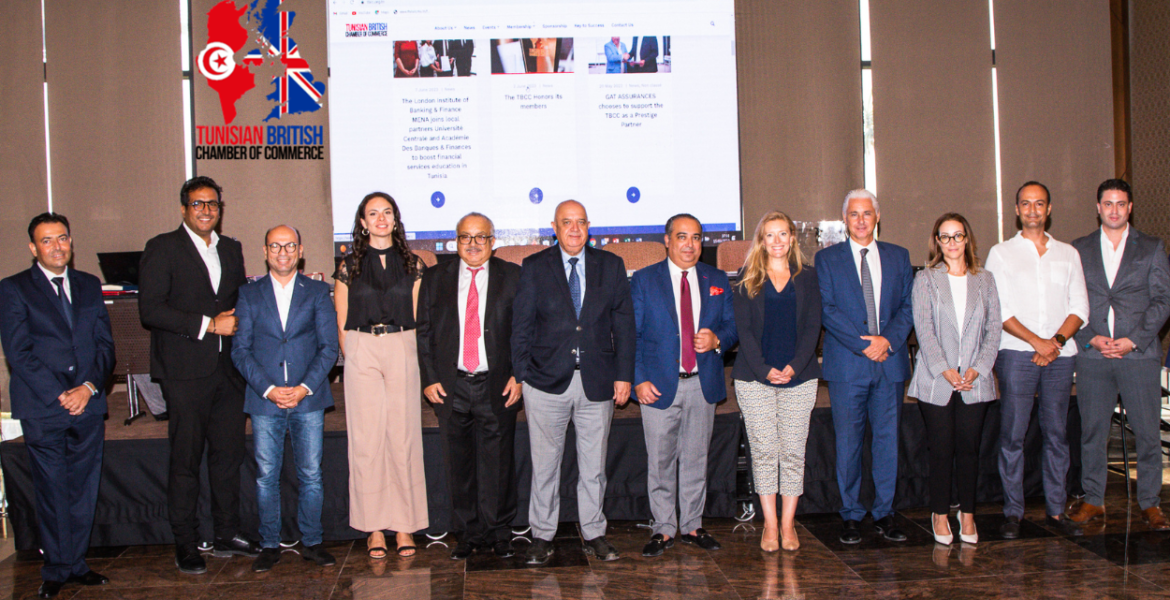 The new Board of Directors of the Tunisian-British Chamber of Commerce (TBCC) was elected on Friday September 15, 2023.
The Elective General Assembly of the TBCC was held on Friday, September 15 under the presidency of Jed Mrabet, president of the TBCC, with the presence of Her Excellency the Ambassador of the United Kingdom to Tunisia, Mrs. Helen Winterton.
After hearing and approving the activity and the financial reports and taking note of the audit report, the general assembly proceeded to the election of new Board members.
In accordance with the internal regulations of the Chamber, the following were elected to the Board of Directors:
o President: Mohamed Jed Mrabet, (Mrabet Avocats)
o Honorary President: Mehdi Ben Abdallah, (Exia)
o Vice-President: Abdessalem Loued, (Huilerie Rivière d'Or)
o Vice-President: Cyrine Hafaiedh Triki, (ARS Tunisia)
o Secretary General: Selma Elloumi, (International Tunisian Trading Company)
o Deputy Secretary General: Mohamed Ali ABOUDI, (MAAP)
o Treasurer: Habib Ben Gharbia, (Capmaris)
o Deputy Treasurer: Omar Guiga (Wallys Car)
o Member :Khaled Ben Jemaa (SAM)
o Member : Zakaria Louati,
o Member : Hichem Turki, (Novation City)
And were elected to the Ethics Committee:
o Fetah Krichene, (Diwen Fm)
o Riadh Badr, (GAT Assurances);
o Tarek Mechri, (Comply Services) ;

Following his re-election as President of the Tunisian-British Chamber of Commerce, Jed Mrabet presented the broad outlines of the mission and objectives of the chamber for the 2023 _ 2026 mandate, thanked the partners and recalled the importance of role that the TBCC plays in promoting trade and investments between Tunisia and Great Britain, and its ambition with the new Board to make the TBCC: "The Partner of Choice for the Tunisian-British Business Leaders".
The Ambassador of the United Kingdom, Ms. Helen Winterton, congratulated the new Board, and reiterated her support for the Tunisian-British Chamber of Commerce and her commitment to work closely to succeed in its mission.
The 2023-2026 action plan promises to be very rich with participation in the Arab-British summit in November 2023 in London, the resumption of regional tours to promote regional development, the UK-Africa Summit in April 2024, get closer to the Tunisian diaspora in Great Britain, initiate initiatives in the sectors of education, new technologies, health, finance and the environment.
Finally, the new Board calls all its members to be a force for proposals, launch initiatives that can create significant opportunities with the United Kingdom, as it reiterates its desire to work with ministerial departments, civil society, economic operators to better meet Tunisia's development challenges.
"The Partner of Choice for the Tunisian-British Business Leaders"