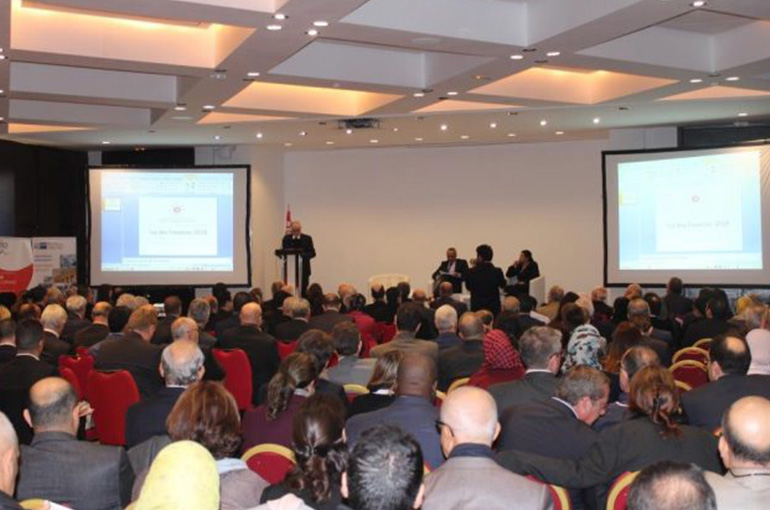 Within the framework of the activities of the Council of Joint Chambers in Tunisia (CCM), the members of the different Bilateral Chambers were invited to attend, on Tuesday, 9 January 2018, a breakfast debate on the main provisions of the new 2018 Finance Law  with the presence of the Minister of Finance, Ridha Chalghoum and his team in the Ministry of Finance.
The Minister emphasized in his speech the importance of the stability of the fiscal framework and the legal regulation. He also highlighted the support mechanisms provided by the 2018 Financial Law to promote SMEs, key businesses of the Tunisian economy as well as measures taken to boost regional development areas.
General Manager of Studies and Tax Legislation Mrs. Sihem Nemsia introduced the 2018 Financial Law in detail and responded to the concernes expressed by all investors about the increase of various tax rates, including the rate of value-added tax (VAT) and corporate taxes and the lack of clarity around tax measures, modified every year.
President of the Tunisian French Chamber of Commerce and Industry and of the Coucil of the Joint Chambers in Tunisia, Mr. Foued Lakhoua, stressed the importance of taking measures to guarantee the stability of the fiscal framework and encourage investment in order to help boost the economic activity in Tunisia.
Mr. Ferdinand Terburg, Vice-President of the Tunisian-German Chamber of Industry and Commerce, highlighted the need for investors to have access to sound and reliable regulations so that Tunisia stands out as an attractive investment site at an international scale.
Closing the conference, The President of the Tunisian-American Chamber of Commerce (AmCham), Naceur Hidoussi,  emphasised on the IT sector, which is likely to be sanctioned by the increases of its taxe rete.
The Coucil of the Joint Chambers of Commerce in Tunisia is made up of  the Tunisian-French, Tunisian-German, Tunisian-Italian, Tunisian-British, Tunisian-Swiss, Tunisian-Belgian-Luxembourg, Tunisian-American, Tunisian-Japanese, Tunisian-Dutch, Tunisian-Spanish, Tunisian-Polish, Tunisian-Scandinavian, Tunisian-Canadian, Tunisian-Chinese and Tunisian-Swedish Chambers of Commerce.